The Women's PowerTypesTM Cards
Your personal toolkit for rediscovering your power, courage and grace.
We need a new kind of power to be the leaders the world needs us to be.
We need a new kind of power to lead the fulfilling lives we want to lead.
A power grounded in collaboration, not competition. A power of co-operation not coercion. A power centred in replenishment not depletion.
At One of many we call this new power, "soft power".
And because so few of us have role models of this way of being, we use the Women's PowerTypes™ to serve as our inspiration and guides.
Soft Power doesn't belong in your journal, on your laptop or in your head.
Bring your Soft Power to LIFE.
In all the women you are.
At work, at home, with your partner, best friend, colleagues, clients, kids...
Hold these stunning, colourful, gorgeously designed cards in your hands. Display them in your space. Move Soft Power from insight and theory into a lived practice that informs every choice you make.
When you embody the PowerTypes into your daily life, you will not only be strong and effective, but also true to the softer aspects of your nature.
You'll be taken seriously, without having to take yourself so seriously.
You'll achieve more, without burning yourself out.
How to work with the cards
You can use the cards in SO many different ways! Here are just a few ideas to get you started.
Keep them near where you work, so you can draw on the characteristics of any given PowerType when you need her essence in the way you approach a problem or opportunity.
Frame them and display them in your home where they remind you to come from your strong feminine essence, rather than Superwoman or the victim, martyr or bitch.
Use them to adorn the space you pray, meditate or exercise in, so you can draw on their support as you tap into your biggest purpose.
Tuck them into your laptop case so you see them every time you connect to your clients or colleagues.
Place the relevant PowerType for each season in a beautiful frame, to remind you of nature's rhythms and your connection to the earth.
Tape them up near your speakers so you can dance your way through your PowerTypes playlist.
If you have completed your Women's PowerType Profile, you can use these cards to help you develop those PowerTypes which are less expressed in your life.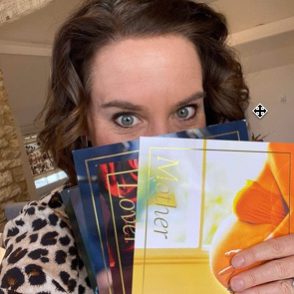 "I use the Women's PowerTypes every single day, to help me find the leadership the world is calling for. These PowerTypes cards will help you step into yours."
- Joanna Martin, Founder, One of many™
Get your PowerTypeTM cards now
What others say about the Women's PowerTypesTM
"I always thought that life didn't have to be hard but now I've actually got the tools to help me not make life too hard. The PowerTypes have taught me that you can still be successful and shine brightly without burning out." 
- Sajni Lakhani, Strategy and Operations Consultant
"The PowerTypes have been staggeringly helpful in my work environment... really powerful tools that are helping me to work more collaboratively with my team and lead them in a more powerful way that works for us all." 
- Felicity Wingrove, Managing Director, Zen Communications
"I've been in superwoman mode for years - always pushing on and being everything to everyone. I felt so empty without her at first, but as the PowerTypes step up and I slowly start to discover my 'soft power' I wonder why I ever thought I needed her!" 
- Sarah Jane, English Lecturer
"I've been using the PowerTypes for over 4 years, they are like my 'village of wise women' ready to give counsel and support whenever I need them. They're very much an active part of my personality now." 
- Karen Roswell, Photographer
"We've all heard about achieving balance but it can seem elusive. The Women's PowerTypes make it really accessible by offering the "how to" in simple yet profound ways." 
- Vivienne Hill, Coach and Founder, FunkHead
Get your PowerTypeTM cards now